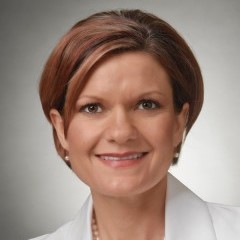 The UMKC School of Pharmacy announced that Cameron Lindsey, Pharm.D., has been appointed chair of the Division of Pharmacy Practice and Administration effective July 1. For the past year, Lindsey has served as interim chair, working tirelessly to help the division throughout the pandemic.

School of Pharmacy Dean Russell Melchert said service, collaboration and a commitment to the community have been hallmarks of her work throughout Lindsey's 23-year career at UMKC.

"We are fortunate to have a great leader take over the helm of a division that has a very long and very strong history of being led by great nationally recognized leaders," Melchert said. "I am thankful that Dr. Lindsey stepped up to this role and wish her and the division continued successes."

 In addition to working collaboratively with colleagues each fall to provide thousands of flu shots to the UMKC and KC community, Lindsey addressed the COVID crisis by establishing a vaccination clinic on campus and working with many community organizations to use the school's student skills to help fight the pandemic. Thousands of COVID shots have been given because of her leadership and dedication, including her work with the Medical Reserve Corps of Kansas City and Greater Kansas City Dental Society, where she helped organize (and provided the vaccine) for two Bartle Hall events to vaccinate local area dentists and first responders who otherwise had no access to the vaccine.

 Finding opportunities to engage her students and inspire their own sense of giving back to the community is an important part of her work and her teaching approach.  A longtime adviser of the UMKC chapter of the American Pharmacists Association-Academy of Student Pharmacists, Lindsey has helped lead the UMKC chapter to being the No. 1-ranked chapter in the country in 2012, 2018 and 2020 and in the top seven every year in between.

Her years of professional volunteer work at the Jackson County Free Health Clinic have extended her reputation beyond UMKC. Lindsey created the Patient Medication Assistance Program for which she was hailed as one of the "Heroes in Healthcare" by Ingram's, a Kansas City business magazine. Her innovative program was selected for merit by the Professional Fraternity Association, and she received the association's Community Service Award.
Lindsey received her Pharm.D. from UMKC in 1998. During her career at UMKC, she has received many awards including KE National Outstanding Advisor, 2008 UMKC Campus Advisor of the Year, and the 2010 APhA-ASP National Outstanding Advisor of the Year. She has also received 10 recognitions for Teacher of the Year, the Rho Chi Outstanding Instructor of the Year Award, the Governor's Teaching Award and the Missouri Pharmacy Association's Faculty Member of the Year award.